Ground Squirrels can cause numerous and extensive damages to the properties they infest. Some of these hazards include the infestation of ectoparasites such as fleas around ground squirrel burrows and colonies, an increased risk of personal injury due to uneven ground/burrows which can result in liability issues, slope failure due to undermining the structural integrity of hillsides, the consumption of ornamental plants or gardens, destruction of plumbing and utility lines from chewing, and unsightly visual damage to the landscape.
Animal Damage Management provides multiple options for ground squirrel control. We can use rodenticide baits, live or kill traps and we can exclude them from your property using underground screening. Our prices will differ depending on the method chosen, the amount of activity present, and the size of the area to be controlled. We guarantee all ground squirrel work we perform. Please call us so we can setup an appointment for you to meet with one of our fully trained technicians or supervisors.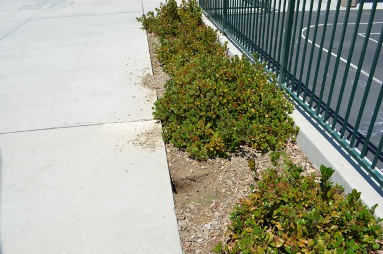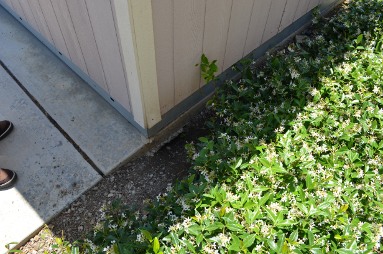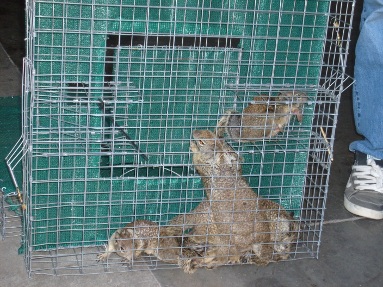 Understanding Ground Squirrels
SIGNS YOU HAVE Ground Squirrels?
Ground Squirrels leave large open mounds of dirt these typically are found on hillsides, against a building or debris piles. These underground nests are typically the easiest way to identify that you have ground squirrel besides seeing them running around.

HOW Do we GET RID OF Ground Squirrels?
Animal Damage Management uses a variety of rodenticides, fumigants, trapping devices, CO2 machines, or rodenators to remove the problem. We take into consideration the location, ecosensitive areas, natural wildlife and cost into which method is chosen.

ARE Ground Squirrels DANGEROUS?
Ground Squirrels should never harm a human directly. The damage from Ground Squirrels comes from mound systems becoming tripping hazards, slope failure, undermining building foundations and being a major disease vector.

WHAT DO Ground Squirrels LIKE TO EAT?
Ground Squirrels consume all vegetative plant matter and will consume different types of meat. They tend to eat anything within their feeding range and will consume pet food as well.

WHERE DO Ground Squirrels LIKE TO LIVE?
Ground Squirrels can be found throughout the world. Here in California we have multiple species but one type or another can be found throughout the state.
COMMON WAYS TO DETER Ground Squirrels?
There are devices that are sold to deter Ground Squirrels these typically work on the principle scaring the ground squirrel away with noise, vibrations, etc. While these devices will work for a short period of time after a while the Ground Squirrels realize that they are not a threat and will no longer be deterred by the devices.
HOW DOES TRAPPING/REMOVING Ground Squirrels WORK?
You would simple give us a call or an email and one of our technicians will come out to the site and give you a free quote for the service. If you would like to proceed we would then use the selected control method to eliminate the problem.
WHAT ARE THE Chances OF Ground Squirrels COMING BACK?
This question is extremely hard to answer because it depends on a variety of factors. If you live in the middle of a city and we have eliminated all of the pests in your yard the likelihood of getting them again is low. If you live in the middle of the country with open space all around you the likelihood of a re-infestation is high.
HOW SOON CAN WE WORK ON getting Rid of your Ground Squirrels?
Typically after you reach out and contact A.D.M one of our technicians will call you back within an hour to setup an appointment.
HOW Does Ground Squirrels REMOVAL WORK?
Ground Squirrel removal works in a variety of ways. The first method is using a trapping mechanism to actively trap and remove live ground squirrels. The other methods involve the use of lethal traps or the elimination of the ground squirrel on site.
WHAT KIND OF PROBLEMS CAN Ground Squirrels CAUSE?
Ground Squirrels can cause plant loss, tripping hazards, slope failure and tree sickness and/or death, structure undermining and they spread disease.
WHAT ARE SIGNS THAT MY Ground Squirrels PROBLEM NEEDS SERIOUS ATTENTION?
When you are concerned about sick/loss of plants/trees, notice a large population and are worried about slope failure or tripping hazards. If you are concerned about your ground squirrel problem please contact us and we will provide a free inspection.
HOW LONG DOES IT TAKE TO GET RID OF Ground Squirrels?
Animal Damage Management provides a 30 day guarantee for all ground squirrel work preformed. When we do the initial service we aim to remove the whole ground squirrel population on the site at once. If we have failed to do so we will come back out for free within that month to treat again.
HOW MUCH DOES IT COST TO REMOVE Ground Squirrels?
The cost to eliminate your ground squirrel problem depends on the size of the property, the amount of activity and what is surrounding it. We always provide free estimates for this service so please call us today.
WHERE DO WE WORK?
Animal Damage Management currently serves 23 different counties throughout the state of California they are Alameda, Butte, Contra Costa, El Dorado, Fresno, Marin, Merced, Monterey, Napa, Placer, Sacramento, San Francisco, San Benito, San Joaquin, San Mateo, Santa Clara, Santa Cruz, Solano, Sonoma, Stanislaus, Sutter, Yolo, and Yuba, We have a variety of sites both residential, institutional and commercial throughout the greater bay area. We have technicians routinely working in cities such as Campbell, Cupertino, Redwood City, Fremont, Danville, Livermore, Dublin, Santa Rosa Morgan Hill, Walnut Creek, El Dorado Hills, Folsom, Lafayette, Oakland, Orinda, Berkeley, Tiburon, San Jose, Rocklin, Walnut Creek, Stockton and Roseville.